Visiting
Science Engineering Research Facility 
Department of Astronomy & Astrophysics is located in SERF (Science & Engineering Research Facility) building on the 3rd and 4th floor. The front door of the building is on the southwest corner of Russel Lane. Take an elevator to the 3rd or 4th floor. The main door of the building is open 8am - 5pm.
The Administrative & Academic Affairs Staff are located on the 3rd floor on the east-side of the building (opposite side to the elevator).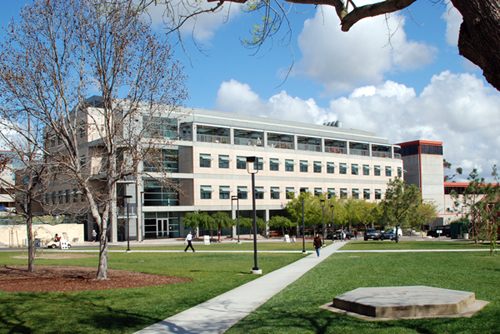 Parking
The nearest parking structure to SERF is UCSD Gilman Parking Structure. The Gilman Parking Structure has Visitor (V) spaces that allows payment at the kiosk machine with the car's license plate number. For official A&A business you may request a discount code that allows a discounted cost. 
Directions from Gilman Parking Structure to SERF: 
Exit parking structure and proceed north on Russell Lane for two blocks. 
SERF is at the end of the street where Russell Lane intersects Lyman Lane.
 The general UCSD maps is here.